Langebaan and Shark Bay – Total beauty spots …
Find cheapest Motorhome prices for Cape Town here
Overview
Langebaan is one of the best spots I've ever kited. It's a lagoon (no sharks, no waves & warmer water than in Cape Town). It's about 40min-1hr drive north of Table View / Blauuwberg in Cape Town where most kiters stay, so you can easily go up there for a day. It's really peaceful, a nice little village.  There are two  main spots there. Langebaan Mainbeach and Sharks Bay. Langebaan is also a great pitch for those who are uncomfortable with kiting in the ocean as its safer in the lagoon. There's very little to do up there other than kiting though so I would recommend basing yourselves closer to Table View / Big Bay and driving through each day (even if you kite there more than in the town). But there are of course also appartements in Langebaan, check the section below for addresses.
Pictures
Here you find some pictures from the spots in Langebaan and Shark Bay. If you are also interested in Sightseeing stuff around Cape Town you should also check out the Cape Town Kiteboarding Destination Review.
Accomodation in Langebaan for kiteboarders
If you want to stay in Langebaan you should stay at Windtown resort. If you want to kite you just have to make a few steps with your kite out of your place and you can pump up your kite.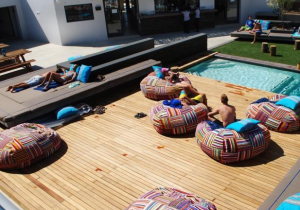 I just stayed a few single days in Langebaan, but I had a look at this resort and this is the absolut GO at the moment when you want to stay an kite in Langebaan – my personal oppinion. Click through and look at the pictures and the map. Your are located in walk distance to the main beach and have a beautiful resort, pool, kite infrastructure, etc. If I would go again and stay in Langebaan, I would definitely stay here.
You have free WiFi, BBQ, Sun Terrace, whatever you would like. I consider this place a perfect mix of kite & relax.

More Accomodation in Langebaan
Of course there are plenty of other Hotels/Appartements/B&B in Langebaan. You can check them out here. Basically Windtown is the thing i would call "kite hotel" there and you can walk to the beach, but you can have a look at the others.
If you want to stay in the big city, you should stay in Cape Town and go to Langebaan by car when you like (40min-1hr drive) and just stay a few days. For Accomodation for Kitesurfer in Cape Town check out our Cape Town review.
Living in a Motorhome
If you want to stay flexible and move around from spot to spot, a motorhome can be an alternative. You can check available Motorhomes and prices from various suppliers here.
Wind, weather & waves
Best months are November to beginning of March, the main direction is SE to S. The wind can get pretty strong, but it's most of the time a little bit less here than in Cape Town. So what you see in the windfinder chart ist just "average". For a 75kg kiter i would recommend to have 7-12m kites.
Langebaan Main Beach
Big beach with white sand. There are restaurants literally on the beach. And you can park right here. The wind's offshore and can be a little gusty. If you go downwind from here with your kite you will see a barrier coming out from the beach. Behind that you will find absolutely flat water. Actually one of the flattest kitespots I've ever beebn :) check it out. Just few people kite down there as you have to go a little bit upwind afterwards and some consider this work :) But it's definitely worth. Try!
If you want to live here, there are appartements directly at the beach. You see it on google maps, a bit north of the main beach: the white blocks. Find address below in the accomodation section. The myriad kites you see on some pictures are not the usual amout of kites on the water, there was an event at that day. On normal days it was not crowded.
Shark Bay
There are no sharks here. It's beautiful. It's waist – chest deep as far as you can go. This is one of my favourite spots in the world. You have to pack a lunch here as the parking lot is not that close to the beach and there are no shops in walking distance. It's can also be a bit tricky to find here by car the first time. Check out the Google Map to not miss the road.
If you go out kiting, always put you stuff at a point on the beach close to the land as the tide sucks the water out a lot and if you leave your stuff on the former "dry" place the water will get it when the tide is coming in again :) If theres low tide, you have to walk a little bit until you reach water that's deep enough.
Travel / Flight
You have to take a flight to Cape Town and then have your rental car ready or organize yourself some transfer to your hotel (maybe they can organize it for you…)
Car rental
These are the best car rental possibilities I found for CapeTown:
RentalCars
Compare the prices of the major CarRental Companies in CapeTown.
Get new cars in good condition. So this is the normal option compared to the ones below. I am affiliated with RentalCars when you use this link. If you want to use their search it would be great if you use the links i provide here, so you buy me a cup of coffee with that and say a little thanks for putting me together this conent :D
Rent a Cheapie
Their cars being used alot by kiters and surfer.
Acker Car Rentals: Renting also old Mercedes Benz Cars
These are  cool. Sometimes you have the feeling they will have a breakdown every second but its probably the coolest kite-car you can get!  These ones are also used a lot by surfers.
Price-level
Expect to pay little less for food than in Western Europe or the US. Eating in restaurants is also a bit cheaper, but not much. If you want to live at low cost it's possible to buy the main supplies for little money at the supermarket. Imported stuff is expensive, local stuff is cheap. That's the rule, as at lot of places. Calculate with what you need at home, you will be on the safe side. If you want to go to Cape Town too, check out our Cape Town Kitesurf spot Review.
Kite-shops
Didn't find any, but in Cape Town you get everything you need. You know a kiteshop in Langebaan? Let us know.
Crime & Security
Actually there is something to say about this for Cape Town, but in Langebaan I had absolutely no feeling of anything bad happening there. But I was only there twice and lived in Cape Town, so ask some locals when you arrive.
General travel information
Must-visit-stuff, nightlife & good-to-know-things
Actually if you want to go to Langebaan and stay there, don't accept much than the beach and wind. There are of course some restaurants and bars, but nightlife, sightseeing and shopping is something you should do in Cape Town.
Videos
You find a Video below that gives a little insight on how it is for kiting. It's done by the local kiteschool. Hope they make a longer one soon where you can see more of the spots. But this is whats available for now :)
Note
Hi, if you like this review and want to stay at a place I suggested on this site, please use the links above on this page if you decide to book. You automatically buy me a cup of coffee with that and I thank you :)
Q&A – Langebaan and Shark Bay Forum
If you have any question about kiteboarding in Langebaan or Shark Bay that was not answered yet. Please post your question in our Langebaan and Shark Bay Forum, or use the Forum Post form below.
Viewing 2 topics - 1 through 2 (of 2 total)
Topic
Voices
Posts
Last Post

Timing

Started by: Alex Cunynghame

2
2
Viewing 2 topics - 1 through 2 (of 2 total)
You must be logged in to create new topics.
Liked this spot review?
If you appreciate the work of putting this togehter, hit like. thaaanx :)
Written by mathias …
… and thanks to Halina Lesyk for making lots of pictures of this review page.
I love to kite, you love to kite, we love to kite :) Hope you like this review!
About welovetokite.com
This is a Magazine Style Kiteboarding Destination Guide.

This means: you find quality Destination Guides especially for kiteboarders on this site. These include everything you need to plan and book your next kiteboarding trip.

E.g.: accommodation suggestions from - and for kiteboarders, car rental suggestions, spot information and everything else you need.

Of course with some beautiful pictures. this way you can get a good impression of how it is over there!
More or less important links
Get notified about new destinations