Review of Kiteboarding Spots in El Gouna – Accomodation and general information for your stay there
Overview
El Gouna is the kiteboarding spot where I have been the most often. It's easy to say why: I go there and can relax immediately. This works at the second visit the latest. There is not so much to explore in El Gouna. It's just a beautiful peace of (artificial) land in Egypt where you can really enjoy your holidays and chill. Some call it Venice of Africa because all of it's channels. I used to say the Monaco of Egypt. However. It's not the typical egyptian hotel-ghetto-dont-move-out-of-the-hotel atmosphere like i feel it's everywhere in hurghada but a nice and calm holiday town, guarded and with all the comfort you like.
So there is no more beautiful place for kitesurf i have seen in Egypt yet. During the day you can kite as much as you want. In the evening you have nice Marinas, lots of Restaurants, Bars, etc. can go out with your girl/boy/women/men and have a nice time in the beautiful town.
And yes the town is really beautiful. It's clean, nice buildings, big yachts, marinas, bar etc. And for kiteboarding you have really perfectly equipped stations in el Gouna. 4 of them. All with nice areas to relax, school, shop, rental, storage, repair, showers, bar, etc. So the kind of kiteboarding station where you don't really have to move away because there's everything you need during the day.
If you are bored of the one spot where you are staying you can do a trip to Tavila, a small uninhabited island 45min by boat out. With pristine beautiful coloured water and off-shore flat water session. As far as I know all of the kitestations organize / or know somebody organizing trips over there. Just ask.
I recommend staying 1 or 2 weeks. If you just do holidays there you may get bored after 2 weeks. As accomodation use the hotels the nearest to the kitebeaches – see my recommendations below.
I stayed in El Gouna already more than 10 times. So if you ask me, it's definitely worth going!
Pictures
Find here some nice pictures to get an overall impression about El Gouna. I stayed most of the time at the Mangroovy-Kite Station (formerly named Kitepower El Gouna). More pictures of the different kite stations in El Gouna you find below where the stations are presented.
Accomodation in El Gouna for kiteboarders
Hotels
Cheap and near to the kitebeaches: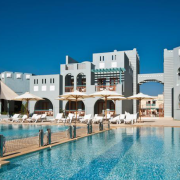 Fanadir Hotel (no kids)
Located in walk distance to Mangroovy-Kite Station / Mangroovy Beach. Located in the new Marina – most north of El gouna. Has pool, nice rooms and has offerings with breakfast and dinner. No kids allowed. Stayed there several times and liked it. Open Hotel Website »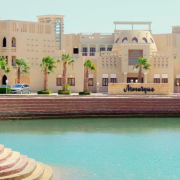 Mosaique Hotel (kids allowed)
This hotel is directly beneath Fanadir hotel. The main difference is that kids are allowed.These two hotels also from organisational side belong together. If it's not fully  booked sometimes only 1 kitchen is open and guest from Fanadir eat at Mosaique or vice versa which is pretty nice. Room Quality, Pool etc. are same as Fanadir. So if you have kids choose, this, else Fanadir :) This hotel is also in walk distance to the kitebeach (7-10min). Nearest Beach would be Mangroovy Beach with the Mangrooy-Kite Station. Open Hotel Website »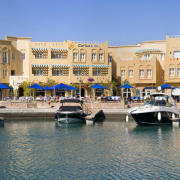 Captains Inn
I stayed there the time the new Marina was not finished. Nice Rooms with breakfast. Located in the beautiful Abu Tig Marina where lots of bars and nice restaurants are. So here is also more life in the evening, compared to the New Marina. You can also walk to Mangroovy Beach from here but it may take 15-20min so you rather take a TukTuk or the Shuttle Bus. So If you want to stay in the more beautiful Marina, this is the place i recommend (also as always lots of kiters stay here…) Open Hotel Website »
More expensive but with a dedicated kitebeach only for hotel guests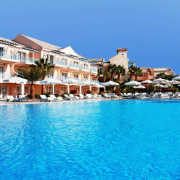 Mövenpick Hotel
If you stay here you will most likely use the Kitepeople Kitestation directly at the Mövenpick Beach. This is a beautiful hotel and if you like you can stay the whole holiday at that place as you have sleep+food+kite all together. Open Hotel Website »
Also more expensive but also one of the most beautiful in El Gouna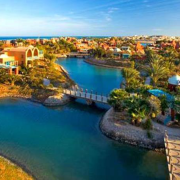 Sheraton Miramar Resort El Gouna
Here i can only say that's a Sheraton Hotel. So you get the quality you expect. It's quite central so you are near Downtown El Gouna. But to go to the kitebeaches in the North of El Gouna you will have to take a TUK TUK each day or taxi. If you like 5star Luxury + El Gouna Style then take this one. As it is egypt and not the Bahamas it is still affordable although it's a Sheraton Hotel.  Open Hotel Website »
Appartements
There are villas you can rent. They are really very nice (in general, because the kind they are built are pretty similar), most of them have a pool 2-3 bedrooms and bathrooms and a big kitchen/living room. They are for 6 persons most of the time. So if you are the self-catering style tourist this is for you and if you come here as more than 2 persons. I personally prefer the full-service hotels in el Gouna as I don't want to care about shopping when I stay and the hotels are pretty cheap. But well. Villas are avilable If you like :) Don't have a link, google for it, there are plenty or ask me in the forum below.
Wind, weather & waves
So it's just about wind & weather in El Gouna, you won't really find waves here. Regarding wind: most of the time it's coming from north/north-north-west so it will be side-on or perfect sideshore. As you can see in die windfinder statistic – best month are June to September – but myself, I was in January/February as well as in August and always had some wind. Sometimes 2 days a week, sometimes 6. So my personal experience was that you can have always wind, and also always no wind. Of course, the statistic says it's best during summer – but you also see the probability for over 4bft is high all over the year – that's why I really like El Gouna, you can basically always go there :)
Temperature: It's super hot in summer but you don't have to be afraid – as you are at the sea it's always ok. In "winter" you may wear a sweater outside (when there is wind and it's cloudy it can get colder) and should wear a wetsuit (thin one is enough) on the water. Look at the average temperature on the windfinder statistic but be aware that you are at the desert and at night it can get cold in winter.
Kite-Spots, Map
All the spots in El Gouna are basically pretty similar. Very good for beginners to make their first meters – but of course also for advanced riders enjoying the lagoon. You always have a shallow lagoon where everybody is riding and practicing and farer outside (I think it's more than 200m at most beaches) it's getting deep. Every spot is around a kiteboarding station/school so you have basically 4 spots as there are 4 stations / schools. Normally you choose one of them and stay there because at all of them you have to pay for the "storage" which involves that you can leave your stuff there over night and which also includes the "fee" so that you are allowed to use the beach and the infrastructure. You pay normally about 50€ a week for stoarage. I think that's fair. If you have to choose between the stations: I think they are all fine. Difference is that I think at Mangroovy-Kite and Kiteboarding Club more Germans are hanging around. RedSeazone and the Station and Mövenpick seam more international to me. But as said before, it doesn't really matter. I think you can also choose which station is more sympathic to you by looking at the pictures. If there is wind in El Gouna you will have it at each of the 4 stations.
Mangroovy-Kite at Mangroovy Beach (till 2015 this station was called Kitepower El Gouna)
The Mangroovy-Kite Station is located closest to the town (Except Mövenpick that is in town). The Beach they are located as is called Mangroovy Beach. If you stay at the Fanadir Hotel in the new Marina you can walk to this station – that's also why I prefer it. I always stayed at the Mangroovy-Kite station. As far as I know it was the first. When I was first there in 2003 it consisted of one container (and was called Kitepower El Gouna)! Now, it's full equipped with shop, school, bar, storage, restaurant, shower, etc. all you need. I like the people at the station. It's always a good atmosphere so I think I will stick to that place. I like it there, I always went there, that's why I stick to that place :)
Kiteboarding Club El Gouna
The Kiteboarding Club El Gouna is the station in the very north. Owners also seem to be German so I also expect lots of German Speakers there. Don't know much more about this station. Check out their website for more Infos. Just one more station to choose from.
Kitepeople @ Mövenpick Resort
The Kitepeople kiteboarding station/school is located directly at the beach of the Mövenpick resort. As far as I know only hotel guests are allowed there. So the advantage here is definitely that your kitebeach is in front of your door directly in your hotel. Disadvantage as far as I feel is that you are also in the middle of the town. So up and downwind you have marinas, other hotels, villas etc. Once I was there to visit friends I felt it's nice as it's so near to hotel and pool but I enjoyed more to be outside a bit at Mangroovy-Kite. Felt more free there. But again. Nice People at the station, good atmosphere and the also a shallow lagoon directly at the spot.
Redseazone
The Readseazone Station is between Mangroovy-Kite and the Kiteboarding Club. Owners are from Poland so I expect less German and more polish / easter european / russion people here. But again, it's all international – that's just my personal feeling. Maybe this all helps to choose one of the 4.
Element Watersports
They are the official North Kiteboarding-Center in El Gouna. They have a big shallow water lagoon, over 5 square Km and depth of the lagoon up to 1,50m without reef. Also at low tide there is enough water in the lagoon. Opening hours are: unlimited. You can come and go when you like. They offer early bird Kiting and sunset-Kiting, Happy hours & BBQs.
Osmosis Kiteboarding @ Club Paradiso
Kite-School and Station located at Club Paradiso in El Gouna. The advantage of them is, that you can literally walk from your room to the kite-beach which is the hotels beach. So beneath Kitepeople this is the only station where Hotel+Kitebeach are together.
Private Lessons
Momo Kiteboarding will take you to the fantastic kite surfing locations in El Gouna. Momo provides kite lessons, trips, downwinder, kite safari with certified IKO instructors level 2. He is former egypt kitesurfing champion which is more then qualification I guess. He offers lessons in English and Arabic. You can normally meet him at Mangroovy-Kite Station where he is also the station manager. More contact and Info on his facebook page: https://www.facebook.com/pg/momokiteboarding/ or momokiteboarding[ a t ]gmail.com
Of course all other schools will also offer you private lessons.
Wakeboarding in El Gouna
Early 2014 one of the coolest Wakeboard Parks in the World opened in El Gouna. Why is this great for us kiters? When there is wind go kitesurfing on one of the kitebeaches. When there is no wind go Wakeboarding at Sliders Cablepark. For me, with this El Gouna evolved to the best kite-holiday-spot that i now. The optimal spot for a one or two week vacation where I know I can do sports every day! It's really great and the infrastructure at the Wakeboardpark is also awesome. Good food, chillout, Wifi, Pool. All you need to spend a great day. And of course 2 Cables. Almost no waiting time when I was there and friendly stuff. I also did a short video. Check it out below in the video section. Here you find more infos about the Cablepark in El Gouna and here you find the best hotels I recommend for staying in El Gouna as Kiteboarder.
Travel / Flight
You have to fly to Hurghada (There are a lot of cheap direct flights from Europe as it's a popular holiday destination) and drive with a shuttle (organize yourself or the hotel is organizing it for you) to el gouna (it's about a 30min drive).
You can search for a flight an compare flight prices for Hurghada directly here on our page.
Car rental
You don't need a car, but If you want it any way you can rent it at Hurghada aiport.
If you do rent a car directly in El Gouna, there are only the locals ones and you are only allowed to drive in El Gouna itself. But as said, you don't really need it. There is a pretty good bus system in el Gouna and when you stay at one of the hotels I mentioned above you can use the bus. They go directly to the kite stations. Of couse you have stick to their schedule but they go quite regular (like every 30min). And the bus is also very cheap. I don't know any more how much it was exactly but like 10€ for a week or so.
An alternativ is to take a TukTuk (TokTok). These are driving all around El Gouna and are kind of the local Taxi. Just stop and take them on the road (or order at the hotel). They are not cars but kind of small motorbikes with sitting possibility for 2 at the back. They are also cheap. I think like 2€ a ride. They look like you can see in this picture:

Price-level
I would say it's medium. Flights from europe are quiet cheap (sometimes just 300€ from Germany) and you can get a hotelroom with breakfast and dinner for about 300-400€/week. Sometimes there are good flight+room packages where you can get it all together for 600-700€. Add the hoteltransfer to that, 50€ per week for storage and some extra money for snacks and drinks.
If you go to restaurants in el gouna, expect normal european / US standard restaurant prices (main about 10-15€). A beer is 2,50€. Everything with foreign alcohol is pretty expensive (Cocktails, etc.)
A typical day in El Gouna as kiteboarder
It's a pure kite holiday. Get up, have a good breakfast and go to your kitebeach. Kite & Chill. In the evening have dinner in the hotel or a nice restaurant. Maybe have a drink at the bar and then prepare for the next kiteday, get good sleep! If there is no wind, you may walk around El Gouna in the Marinas or Downtown which is nice or make a tour like quad, camel, oasis, etc. You can also do go-kart driving, horse-riding or wakeboard. My opinion is, if you have been to egypt more than once, you won't do things like camel riding very often. I see El Gouna as just kite holiday and if there is no wind, I take a book an relax. It's sunny, you are at the sea, that's fine. Of course if you also dive, you can combine it pretty well there.
Nightlife, Bars, Restaurants, etc.
You have lots of bars and restaurants around El Gouna. The best you find in Downtown or the Abu Tig Marina. Just go there with bus or TukTuk and walk around. They have nice terraces with view on the sea. I really like that. Also the bars around are nice. Everywhere you can get a Shisha too if you like. Regarding nightlife: Last time I was there there was 1 Club called Palladium – but you have to inform yourself when you are there when they play, because it was closed some nights.
Kite-shops
See above as described at Kiteboarding schools section. At each station you will get spare-parts, they help you with repair etc, and of course you can buy or rent stuff there.
Crime & Security
El Gouna is safe. Only tourists and personell are inside. I alway leave my stuff on the beach and it was never stolen anything. As always: don't do stupid stuff you would do nowhere like leaving phone, wallet etc. lying around. Also put all your valuables into the safe in the room. I always hear stories like some cigarettes and small things like this nobody would really complain about get less and less every time the room was cleaned up :) So it may also be good to leave a little tip for the hotel personell on your bed every some days :)
General travel information
Visa & at the Airport
You need a Visa when you enter egypt at the Hurghada Airport. Check your travel-documents if your Visa is included from your travel operator. If yes go to the guys with the logo of your travel operator and get it there. If not, buy it from anybody there. Everybody will try to sell it to you. It's 25$ don't pay more, some try to charge you more and take the rest for themselves. It's a hustle there, everybody is shouting and trying to sell, so keep calm thats the best. Also when you get out of the airport, everybody wants immediately sell you stuff and get you in their taxi, so again keep calm and look out where your organized transport is waiting :)
Wifi
Almost every hotel will have WiFi, but mostly not for free. Restaurants also have WiFi most of the time that you can use when you eat there. Where I was always hanging around is the "Club House" in Downtown. They have eatable Pizza and a Pool. So before/after eating you can hang around at their pool and they have also free WiFi. I was always doing my work from here. This was when WiFi was pretty rare over there. But now it won't be a problem. Even at the kitestations they may have it (but charge it too).
Videos
On youtube you find several videos to get an impression of Kiteboarding in El Gouna – here is a short Video I made about the Cable Park.
Good-to-know
If you have enough of the "same beach" in El Gouna, do a trip to Tavila Island. Approx 45 minutes by boat. Looks like this.
Q&A – El Gouna Kiteboarding Forum
If you have any questions, just use the forum below. You don't have to register. I will try to answer your question as soon as i can.
Liked this spot review?
If you appreciate the work of putting this togehter, hit like, and book your trip over the links on this site, if you find good offers. thaaanx :)