Kiteboarding on Barbados. Spot Information, Where to stay – Accommodation information and all else you need to know.
Overview
Barbados is one of the windiest islands of the caribbean. And a wave-spot for Kiteboarders. The wind probability is very high almost all over the year. Best windy season is December to June/July. If you are more the freestyle kiter this is not your spot. Almost all kiters here ride wave boards. There is just one beach you can kite with flatter water and this only works with specific directions. Below you find some pictures to get a good impression how it looks like on the island.
Note: When I was on Barbados we were quite unlucky with Seaweed. There was Seaweed almos on every beach on the south and east cost. I talked to lot of locals. It was very unusal and also disappeared some days after we left. So: On my pictures you see lot of Seaweed on the beaches. This can of course happen all the time, but normal is a beautiful beach with turkoise water. So don't be scared about that. Most likely at the moment now it is clean. Nevertheless on this page you find "real" pictures. Not photoshoped super high quality postcard pictures – but the real life :)
Below I tried to put together all you would need for a kiteboarding holiday on Barbados. Accommodation Suggestions, Spot Information, Car rental tipps, etc. If something is not covered or you have questions use the forum on the bottom of this page.
Accommodation in Barbados for kiteboarders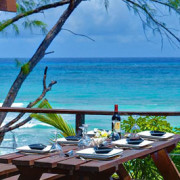 This is the Apartement where I stayed. It's something between apartement and hotel. They don't have breakfast but change towels, bed sheets etc. and clean the room regularly. More importantly the people running the place are really friendly. The owner is also kiter and is often at the/his Beach Bar in the evening (The Surfers Bay Beach Bar directly at the venue). They have a small pool that is nice  to relax between/after kite session. The venue is directly at the sea. And altogether around the venue it's really green. You are not in the middle of a town, surrounded by houses or so :) To go to the kitespot you could walk 10 minutes. But better you have a car (2 minutes drive). If you come downwind this is also the last possible place to get out.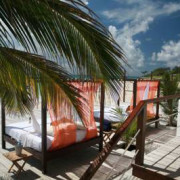 This Hotel is directly at the kitebeach. I would say that's the cooles thing on it. So really directly! You step out of the hotel and the hotel beach is the Silver Rock Kite Beach. So if you don't want to explore, just stay at a hotel an kite. So no car needed too. Go! The hotel is beautiful. Has pool, nice rooms and everything you need. More expensive then Moonraker but well directly at the beach. Moonraker is more quiet, here you have hotel action but ok, beautiful and nice hotel :)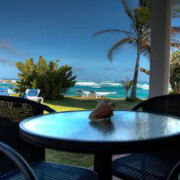 A bit away from Silver Rock Beach (2min drive). Nice hotel. Beautiful view. You need a car to go to the kitebeach.
There are also lots of other hotels and apartements in that area but these are ones where kiters stay around the spot as far as I know. I saw lot's of others around but I don't find them now any more here in the internet. If you are an owner of an apartement there let me know :) I personally really recommend the Moonraker. It's not total luxury but good price/value and I loved the pool directly at the sea and that the apartement is directly at the see with this little beach where nobody was :D
Other recommendations our users booked
These are also places that will fit. They are booked by our users so you can see them as recommended by welovetokite.com Kiters.
Videos
Here is a nice Video of the Action at the Main Spot at Silver Rokcs (although in the Vid it says Silver Sands :).
You have to fly to the International Airport of Barbados (Grantley Adams International Airport). If you choose an accommodation near Silver Rock – it's about 15min drive. If you take a taxi from the airport it will be around 25 BDS. If you have a surfbag they will charge you 10 BDS extra.
Wind, weather & waves
Barbados is one of the windiest Caribbean Islands. If you look at the wind statistics below you see the probability for wind is pretty high all over the year except August to November – and there it's still ok. So really a spot with high wind probability.
Barbados is a Wave-Kitesurf Spot. The main Spots Silver-Rocks and Long Beach have all waves. Small ones near the beach and bigger ones out at the reef. So almost all kiters here go out with wave-boards – which definitely makes Sense. There's just one flatter spot (Worthing Beach). See below for more about that.
If you want to go Wave-Surfing there's possibility too. Beginners go to Freights-Bay (see more Infos and Pictures below at the General Travel Info section). Experts go the Bathsheba. I heard Kelly Slater comes here once a year.  Be careful in Bathsheba. Strong currents, difficult conditions. Only go out if you know what you do.
Here you find the latest forecasts and a Wind-Archive
Kite-Spots, Map
There are some beaches on the island where you can kite. The main beach is Silver-Rock. Silver Sands is near Silver Rocks and also rideable, but the infrastructure is at Silver Rock so most people are there. Long Beach is a very long beach where you have plenty of space and just a few kiters. Worthing Beach is more flat but only works when the wind comes more from the south (normally east).
Basically ervery beach is kiteable where wind comes in but these are the mains and best available. Others are not really good and some are dangerous. They have stronger currents – most beaches in the south where you could kite are not recommended for Swimmers e.g.
Rescue: There are no rescue boats. So be careful if you kite far out. If you are at Silver Rock there are local guys who watch the kiters from the beach. It's their job to rescue you if you are lost. If they see your kite is down, you drift away and can't relaunch they will come and paddle to you and rescue you if they reach you. They will charge you about 100 USD as I was told. Normal rescue fee I guess. Just good to know – better don't need it!
Silver Rock Beach
Silver Rock is the Main Kitebeach on Barbados. Directly at the Beach there is the Kite and Surf School of Brian Talma located (Pro Windsurfer Legend). When I was there he was there too and shredding. There are also other kiteschools teaching at the beach (see kiteschools section) but Brian Talmas is directly at the beach. In the main season it's pretty crowded. It's a wave spot. You have small waves at the beach (which for a beginners are also pretty challenging when they want to get out) and bigger waves out at the reef where all good kiters with their waveboards have fun.
At the kiteschool of Brian Talma you have a shower and Beach Bar where you can get a Beer and a Burger. Also you can sit down in the shadow an relax. So really all you need for a good kiteboarding day. Wind, Beach, Waves, Food, drinks. Most probably you will hang around at this beach the most of the time.
Long Beach
Long beach is a very long beach, absolutely not crowded. If Silver Rock gets to crowded for you go to this beach. But don't go alone. Maybe you are the only kiter and you should take care of your safety. Wind is sideshore, if you need help when you are at the reef … So just use your normal kite safety instinct.
Like Silver Rock you have small waves at the beach and bigger at the reef. But the waves at the reef are better at Silver Rock. That's why the most people are there of course.
There are lot of entrances, you can use all except the last in the north (at least i was not able to find a way to the beach there). The best is in the middle of the beach as you are more upwind. Find this middle entrance on google maps. Navigate there with your GPS and then turn left when you see the "TEAL" sign. Follow the road and continue on dirt-road (grass). When the grass road goes apart – take the left one. Follow the road directly to beach. It's no problem with a normal car when it's not wet – muddy – etc. On Google Maps it seems the "Teal" Road is not going to the beach. But as said there is this dirt road you can use. But if you have a GPS. Just explore. On the map you see the roads that go near the beach – the rest you will find out yourself.
Worthing Beach (Sandy Bay/Beach)
Worthing Beach is flatter then the other spots. But you can only kitesurf there when the wind comes more from a southerly direction (then it's also onshore in silver rock and better here at worthing beach). This beach is also called sandy bay. So if you here or read this, they mean the same (I was confused because of that when I arrived :). Check the google Map, then you see why you need a more southerly direction.
On the pictures you see the beach. It can be crowded with people but they are more on the right at the resorts. On the right you also find some boats where you should not kite. But on the left side (starting from the yellow house) you can go out. As you see there is a bay where you will have flatter water. But be aware and in this bay don't go too much upwind into the corner because you will have no wind over there any more. Unfortunately I haven't had this wind direction when I was on Barbados so can't tell you more about this here. This what you read is what I heard from the local guys.
Silver Sands Beach
Silver Sands is near Silver Rock (west of Silver Rock). You can walk there from Silver Rock. It's just on the other side of the rock if you look left from Silver Rock Beach. It is also kiteable but all the action is on Silver Rock. Also it is smaller etc. So some people go out there but I don't find too much sense in it. Also you are more downwind so it's also kind of safer to kite at Silver Rock.
Kiteboarding schools in Barbados
deAction (Brian Talma)
Directly at the Silver Rock Kitebeach you find a coloured green House with Paintings. you can not not see it. This is the Kiteschool located directly at the Silver Rock Beach. Including a Beach bar for snacks and drinks.
Endless Kiteboarding
Another school I saw teaching there. I don't know exactly where they are located (their office)
LinUp Kite and Surf School
Another Kiteschool in that Area. 2min drive from Silver Rock Beach. Duotone Kite-Center.
I guess the best is to look on their homepages and compare the offerings. I didn't research who of them is doing what or better, so can't give any tips on which school to choose :)
Kite-shops
If you need kite-equipment to buy. I think it's not easy in Barbados. If you need repair or spare Parts ask at the kiteschools. They have some things or will point you to the right person.
If you are looking for Surf Rentals and want something cheaper than the offerings of the kite-schools, go to Dread or dead surf-Shop. It is the biggest rental for surboards on the islands. It's more surf than kitesurf, but better than nothing :) Kiteshop I didn't know of on the island.
Car rental
You can either book with one of the major Car-Rental companies in the internet or you can get local ones. If you book at the major ones you can get your car directly at the airport of course. I didn't take it because my flight arrived so late and left so early that none of the rentals where open at the airport :) So I asked the guys from Moonraker Beach Apartement to get one for me. They said it's no problem. So I took a taxi from the airport to the apartement and on the next day in the morning our host from Moonraker organised a car for us. The big ones take the standard priceds and the local rentals are mostly a bit cheaper. It will not be the newest car you get but hower you want.
If you want to plan and book in advance, I suggest using rentalcars.com. After doing much research in the internet I find them still the most reliable. Often I check for new destinations almost all local car rentals I find in the internet. And after calculating the prices they show on their website, adding all insurance and stuff they add I find out over the comparisons like rentalcars it's 10% cheaper overall. They are the biggest I always book there. Over the links here I am affiliated with them. So if you book there any way and would use my link here you by me a cup of coffee with that, and appreciate the work of putting together this page with my experiences. thanks :D
Price-level
Barbados is expensive like most Caribbean islands. Apartement prices are pretty high. If you go to the supermarket as usual local food is cheap, imported stuff expensive. If you cook yourself you can have it cheap. If you want to go to restaurants it's expensive. Cheap restaurants main dish 15$ up. If you go to an "nice" restaurant much more. Beer and drinks are normal around 3$. If you want to have "cheap and good" food go to Fish-Fry in Oistins. You get fresh fish with fries or rice for about 10$ which would be 40$ in a nice restaurant.
The currency is Barbados-Dollar which is bound to US Dollar as far as I know. 1 USD = 2 Barbados Dollar.
A typical day in Barbados for Kiteboarders
If there is wind you go kite to Silver Rock beach. If it's crowded you may go to Long Beach have a quieter session. After some days without wind you explored all the island and will sit around at the beach. Relax, Enjoy, wait for wind (which is mostly there so no long waiting :). So it's a real kitesurf holiday where you don't get destracted from your sport (I compare this always to spots like Cape Town or Mauritius where I felt I could explore every day something new… – so this is different, you can concentrate on kiteboarding :)
Nightlife, Bars, Restaurants, etc.
During the day either take a sandwich with you or have a good burger at deActions Kite-Station. You should also check out the "Surfer's Cafe" in Oystins if you want to take a break and drive to the town. You get really good coffee (which is seldom in the Caribbean) and also good food for OK price. And you have the perfect view from the terrace!!! (see photo at the top pictures section)
In the evening I didn't explore a lot. I stayed at Moonraker Beach Hotel and directly at the venue is the Surfers Bay Beach Bar which I personally think must be the coolest place in the evening on the island for surfers. Surfers come here, stay here and have fun. And each Saturday or Sunday (don't remember any more :) there is live music. At the pictures at the top of the page you have one from the bar. From my point of view the perfect beach bar for Surf-holidays. I would love to have one like this on each kite-holiday.
Crime & Security
I felt totally safe. Don't do stupid stuff as usual, lock your car, don't leave personal belongings on the beach and you'll be fine. I always left my kite bag on the beach at Silver Rock like everybody else and that was fine. But money etc. was locked in the car.
In the evenings or in the city etc. I always felt safe and welcome. So this is a safe island as far as my personal oppinion goes ;)
General travel information
Travel
If you travel over the U.S. you have to get your ESTA. For me personally that was no fun. Not because of the ESTA which is not a problem but because when you land in the US even it is only for transit, you have to immigrate, get your bags out through customs, check them back in etc. which is sometimes a 2h job in queue :(. So If you can avoid a flight with US transit. Everything else is smooth and without problem.
Must-see-stuff, Nice sightseeing I recommend
I went by car all around the island. All beaches are nice of course but beneath the postcard-perfect west-coast beaches and our beloved kite-beaches you should visist Bottom Bay and Foul Bay which are truly beautiful (Pictures of this beaches you find at the top of this page).
Also go to the Bridgetown (which I find pretty boring – but well it's the capital…). In Bridgetown visit the Government House which is nice. To be honest I didn't find anything else special there but was also not there for a long time. Maybe you find more :)
Check out also Codrington College and very important: Welchman Hall Gully: Beautiful rainforest style Nature. Really special and nice to walk through.
Local Internet in Barbados
Most of the apartements or residences have WIFI. Surfers Cafe in Oystins also has WIFI. Well Internet is not a problem any more anyways so maybe I skip this section in future reviews :)
Wave-Surfing
As mentined above. If you want to surf some waves and you are beginner go to freights-bay. Freights is the name used by surfers for the break at the upwind end of what most locals will call Enterprise. If asking directions its good to have both names. Of course the downwind end of Enterprise is always called Miami. There are some baby-waves you can have fun with. Freights bay is 5 minutes by car from Silver Rock. Best is you ask a local how to get there. There are a lot of Turtles, it's a good chance you surf with them when you are there :) The entry from the road is the one on the picture below. If you walk through you will get to the cliff where stair brings you down to a tiny beach-piece. From there you can start. Experts go Bathsheba on the other side of the Island but you should definitely know what you do if you go surfing there. Below you see Freights-Bay.
Barbados Kitebeach Webcams
I don't know any webcam of a Kitespot on Barbados. But here is one of Mullin's beach. Has nothing todo with a kite-beach on barbados but still it's a live-view of Barbados :)
Good-to-know
Don't forget. It's a wave spot, not flat. Waves.
Q&A – Barbados Kiteboarding Forum
If you have any question about Kiteboarding or staying on Barbados just ask the question in the forum. I will help as soon as I can :)
Viewing 4 topics - 1 through 4 (of 4 total)
Viewing 4 topics - 1 through 4 (of 4 total)
You must be logged in to create new topics.
Liked this spot review?
If you appreciate the work of putting this togehter, hit like, and book your trip over the links on this site, if you find good offers. thaaanx :)
Written by mathias …
…… and thanks to Halina Lesyk for making lots of pictures of this review page.