Top places to stay for kiteboarders in Tarifa – Spain for holidays
Tarifa is one of the most popular places to kite. During summer the beach is very crowded which is not a big problem as it is so huge. Tarifa itself is a really pittoresk little town which makes fun to go out in the evening.

Hotels listed here are my recommendation if you stay for kiteboarding in Tarifa and want to be near to the beach an the city. But attention: The beach is huge. So you should decide if you prefer to be nearer to the city or nearer to the kitebeach. Nevertheless it makes sense to have a rental car as you will need to go here from the airport and there are also some spots around that are worth visiting and where you need a car (e.g. Los Canos de Meca and Val de Vaqueros). From some of the venues you can walk 5 minutes to the beach with the gear in your hand, but most people drive this short distance to the beach too.
Hotels I recommend in Tarifa for kitesurfers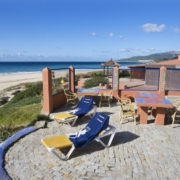 This hotel is really worth a check as it is 100% at the beach and you can kite directly in front of the hotel. There is also a kiteschool located in the hotel. Most other hotels near Tarifa are not 100% at the beach but some 5-10 minutes walking distance or car needed. This hotel has all you need incl. breakfast pool and nice rooms and areas to relax. More here.
Location in Tarifa: as you see on the picture you are at the beach, but it's some km to Tarifa city.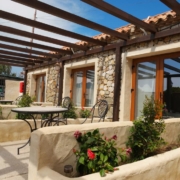 Located almost directly at the beach it is a quite cheap venue. It's clean furbished and you have a pool and green space where you have plenty of space to pack your gear at the end of your holiday. You get breakfast served, Air condition of course in the rooms and what I like is the nice terraces. Open Website.
Location in Tarifa: Almost directly at the beach, 1 street away, 5-10 min to Los Lances, see the map.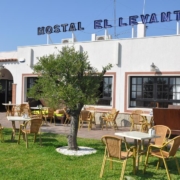 Also quite cheap and only about 5 min from the beach. So walking distance and therefore ideal for kiteboarders. Breakfast included and Air Con, Wifi, Terrace. Simple and good. Open Hostel Page.
Location: Near at the beach, about 2km from Tarifa city.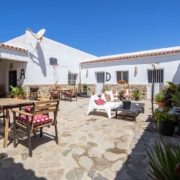 A nice appartement (so without breakfast) about 9 minutes walking distance from the beach. Your view is on the mountains or in the garden und you can enjoy the evening on a nice terrace. The appartements are stylish furbished and look quite cool. More here.
Location in Tarifa: you are nearer to the city and also near to the beach. So a good mix compared to the appartements above.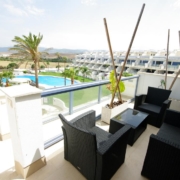 A very nice prepared big appartement with terrace. Pool is available. It is for 5 people and therefore if you share also quite cheap. You can also relax in the nice green garden after you day on the water. See more about it here.
Location in Tarifa: 4 min to the beach, and very near to Tarifa town for going out in the evening.
If it's not so important for you to stay near the beach but you want to stay in Tarifa Town, there are of course numerous possibilities. But there will be some places where you are not able to go by car as Downtown Tarifa is carless. Here you find the city hotels / appartements.
You know another great venue for kitesurfers in Tarifa not listed here? Let me know. I'll include.
Lowest price car rental at Malaga Airport