Outdoor Master Shark Pump 2 in Review
I was lucky to get a SUP Pump from Outdoor Master to test. As I try to kite most of the time, in windless times I often go out with my SUP. I used to have a heavy pump with built in battery which was quite ok for some time, but I always had problems with charging the battery. It said it's full. And with full it should have been able to pump 2 boards. And often it was not even enough for one. So I was really happy to get this pretty cool looking pump which works with 12V DC.
Here some pics from the box how i received it.
On first look all looked fine. Nice packaging in good quality. A bit irritating was the chinese & german instruction manual. I didn't understand if this was a chinese product or german and why there was no english or other language included. It made me a bit feel like this is 100% a chinese product. But however, this is not a problem at all, in the end most of the stuff comes from china and with other products maybe this is hidden better.
The product also feels good It looks like well manufactured and the hose is also of really good quality, better than i knew from similar products. Also the different adapters are of good quality.
With one thing I had an improvement Idea: the DC connector Cable is bound together with a plastic. I would prefer if i can somehow store this in the pump and don't have the cable always tangling around. maybe an extra bag for the pump where i can store pump, hose and connectors would also be a solution. For this i will find a bag for myself which solves this. Here a look at the cable:
And now let's try it out. It's winter here now so I will not have perfect sea or lake background pictures but a street :) but the pump should work in this environment as well.
What I really liked was the quality feeling of the hose. It is realy much stronger and more solidly built than I have ever seen it for a pump.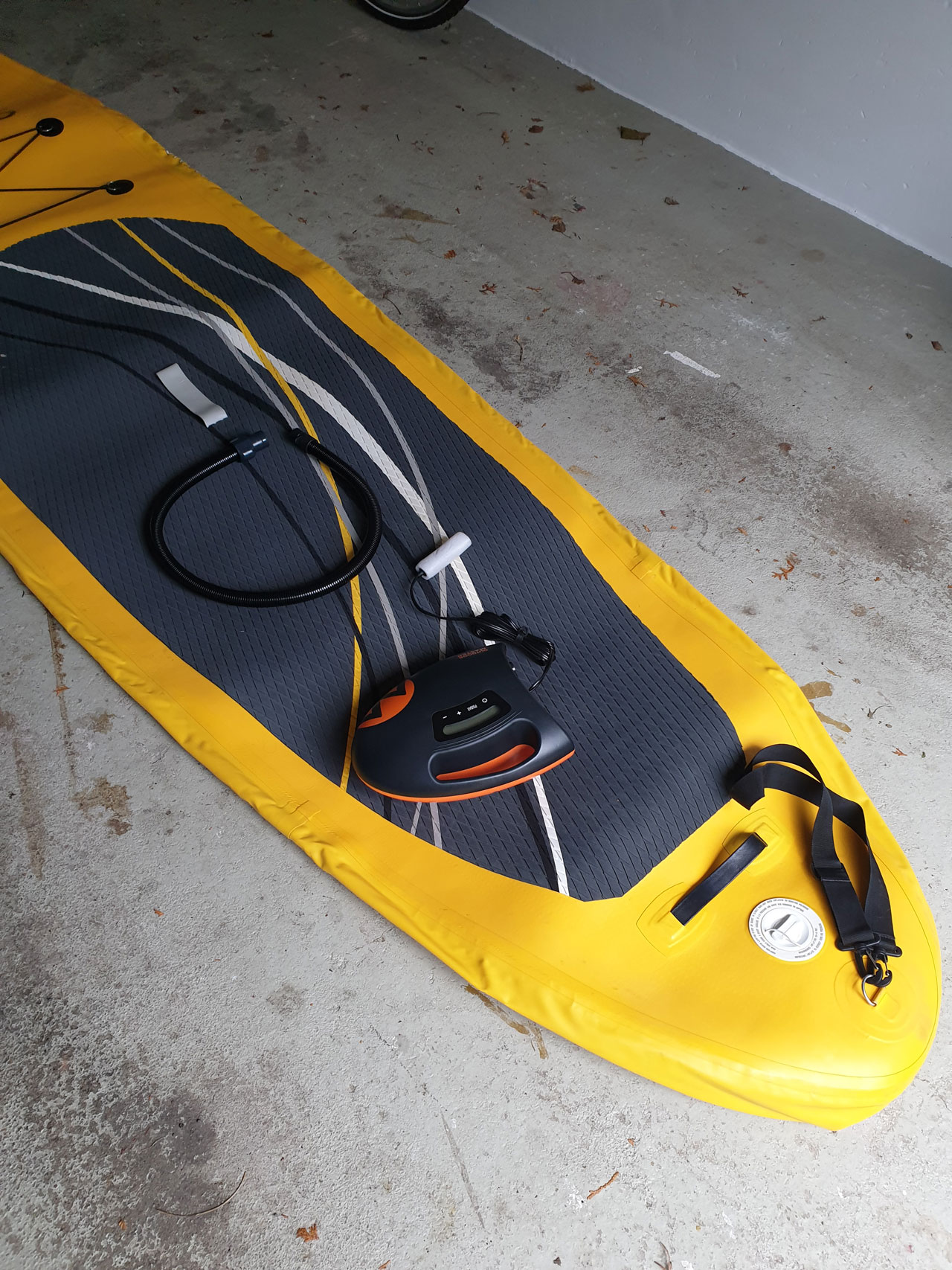 And on this next picture you can see the cable once more. I mentioned in the beginning that I would have liked it more if I can hide the cable somewhere in the nice sharky-box and that there is only this cable-binder to fix it. And here on practical use I saw that at least this binder is fixed to the cable so I will not loose it which is nice.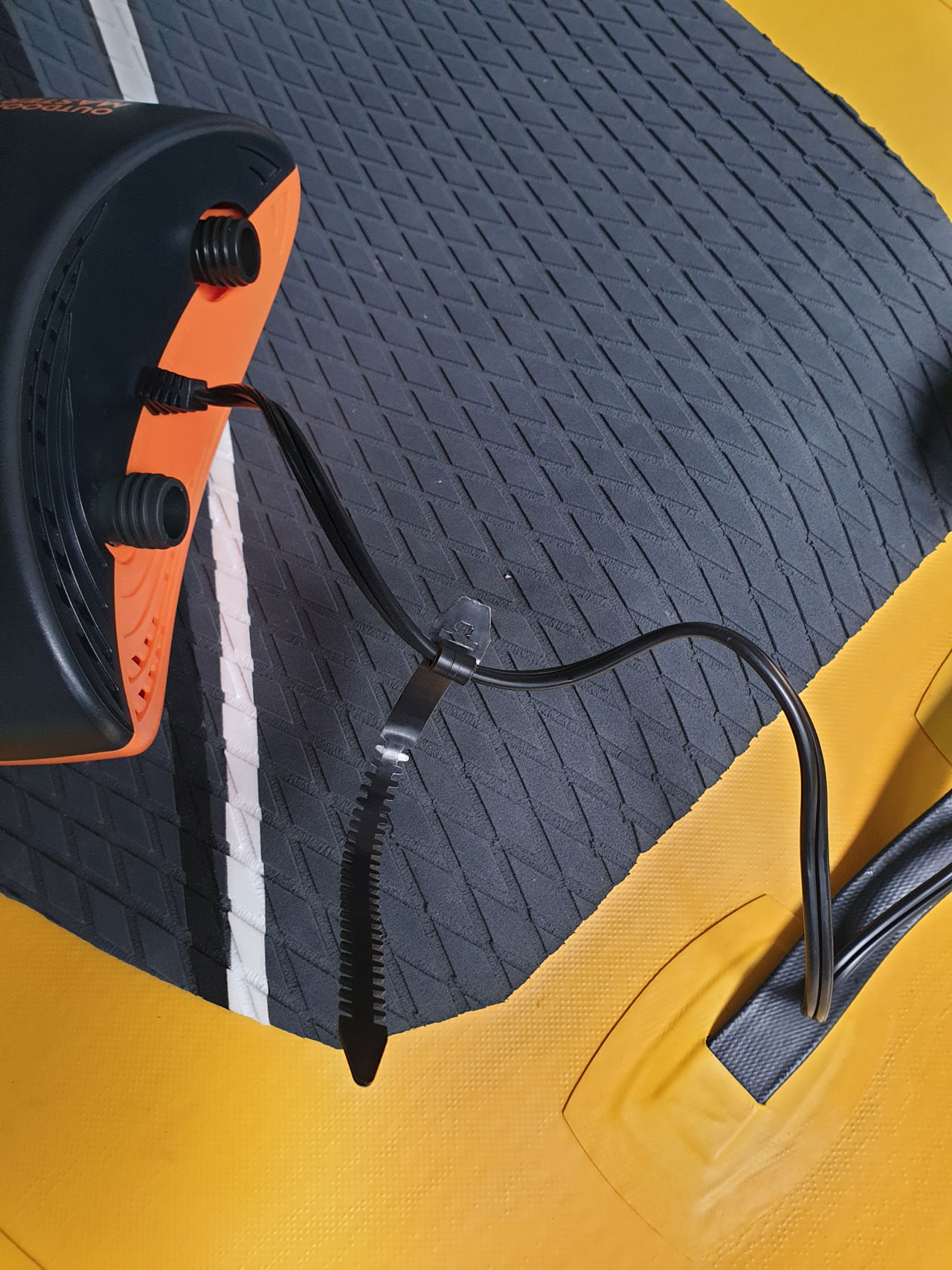 Here you can again see something of the good quality of the hose. I mention this so often, as this is usually something that breaks first and without it the pump gets useless. Here you see in what a solid way the pump is fixed to the hose. Like.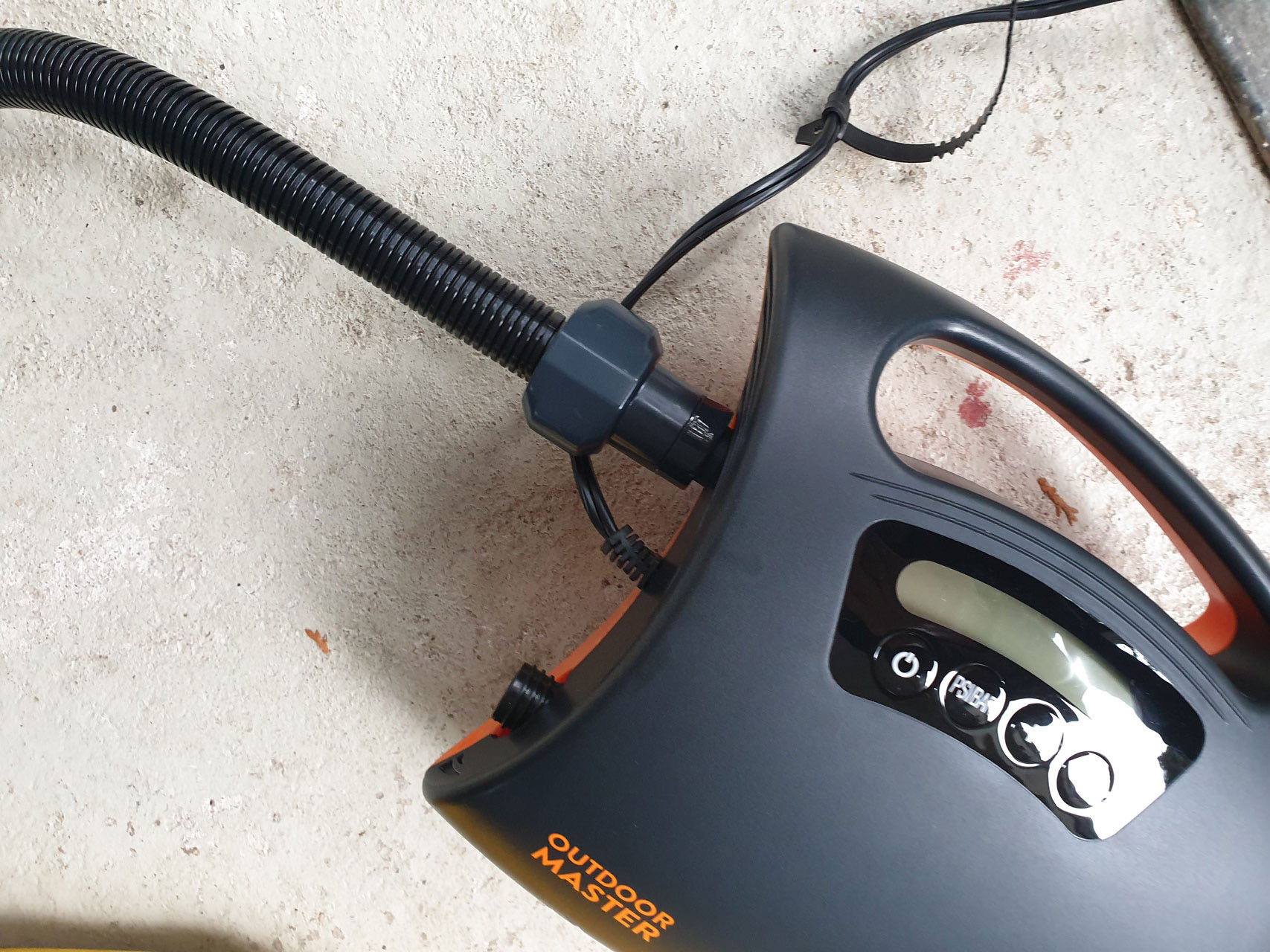 So I connected the pump to my cars 12 V outlet, connected it to the pump and let it do the job. Good: The LCD Display is really strong. So I expect I can read it really well also in strong sunlight. I can change PSI and Bar. I use PSI.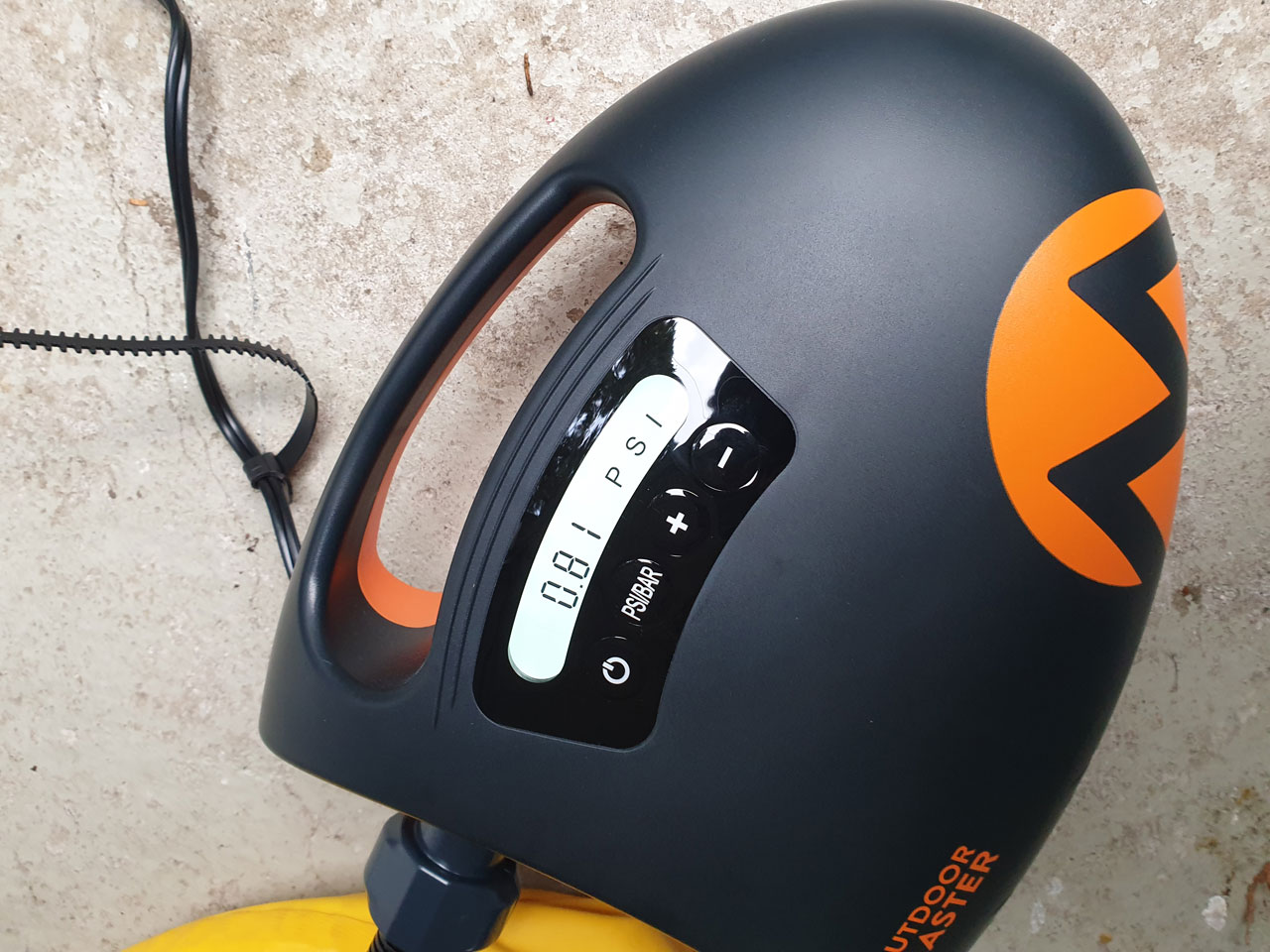 On connecting the pump i fuzzled a bit with the different connectors and almost thought it's not compatible with my SUP. But I was wrong. I saw that besides the different connectors there were also different rubbers that could be attached to the connector – or changed. I needed a smaller one for my board. After I figured this out and changed it, it all worked perfect.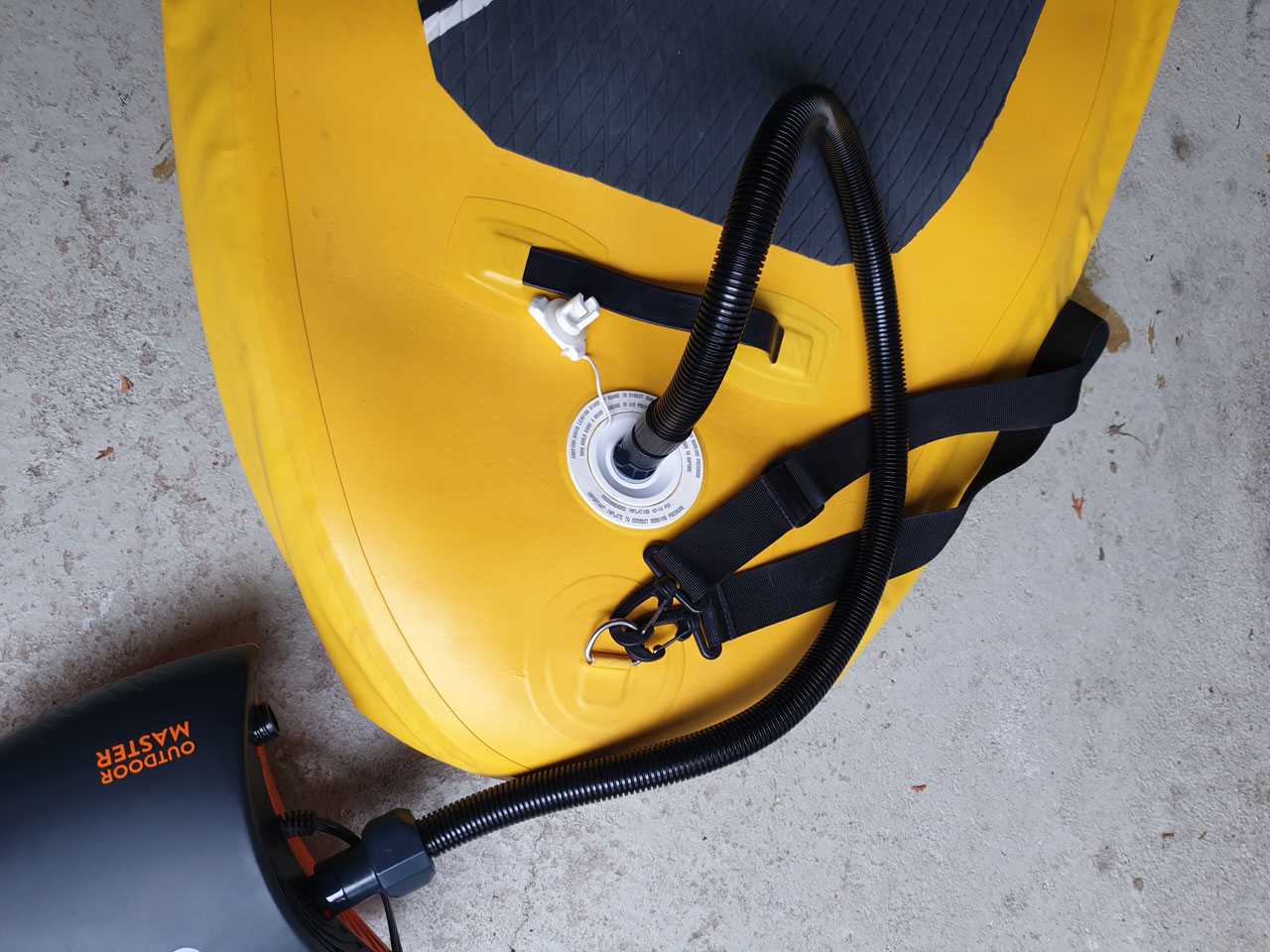 Nice. It's working. In the beginning the pump is really quiet. I guess as long not too much pressure has to be put into the board it's silent. that in gets louder but it's still more quiet than other electric pumps i know. It's also quick.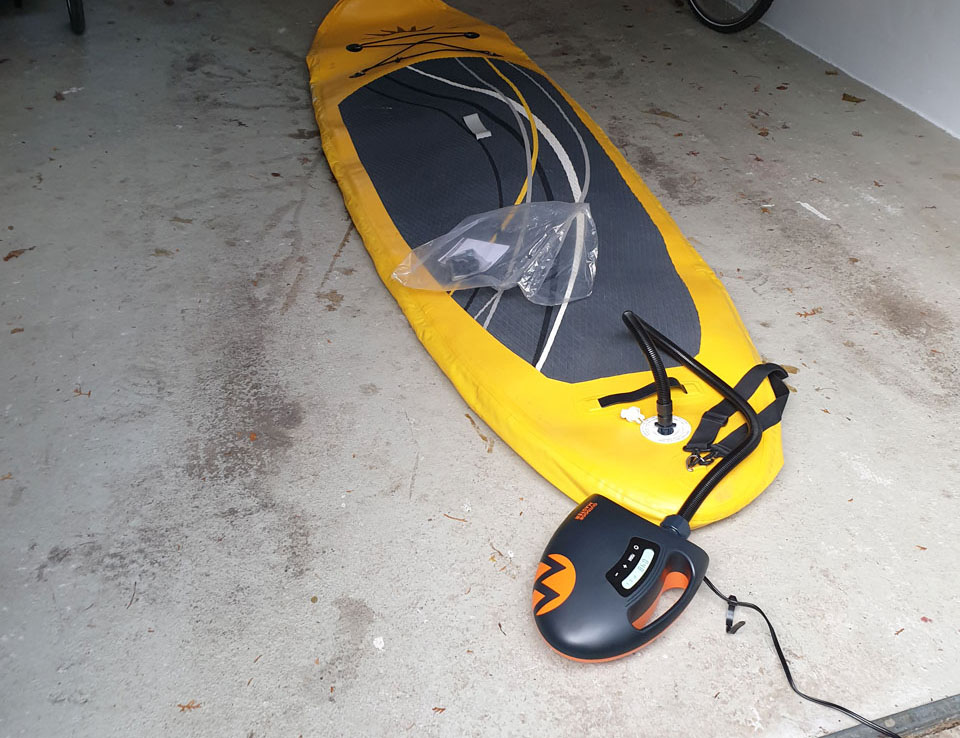 Just a few minutes later (less then I expected) the board was pumped and the pump stopped at the PSIs I wanted.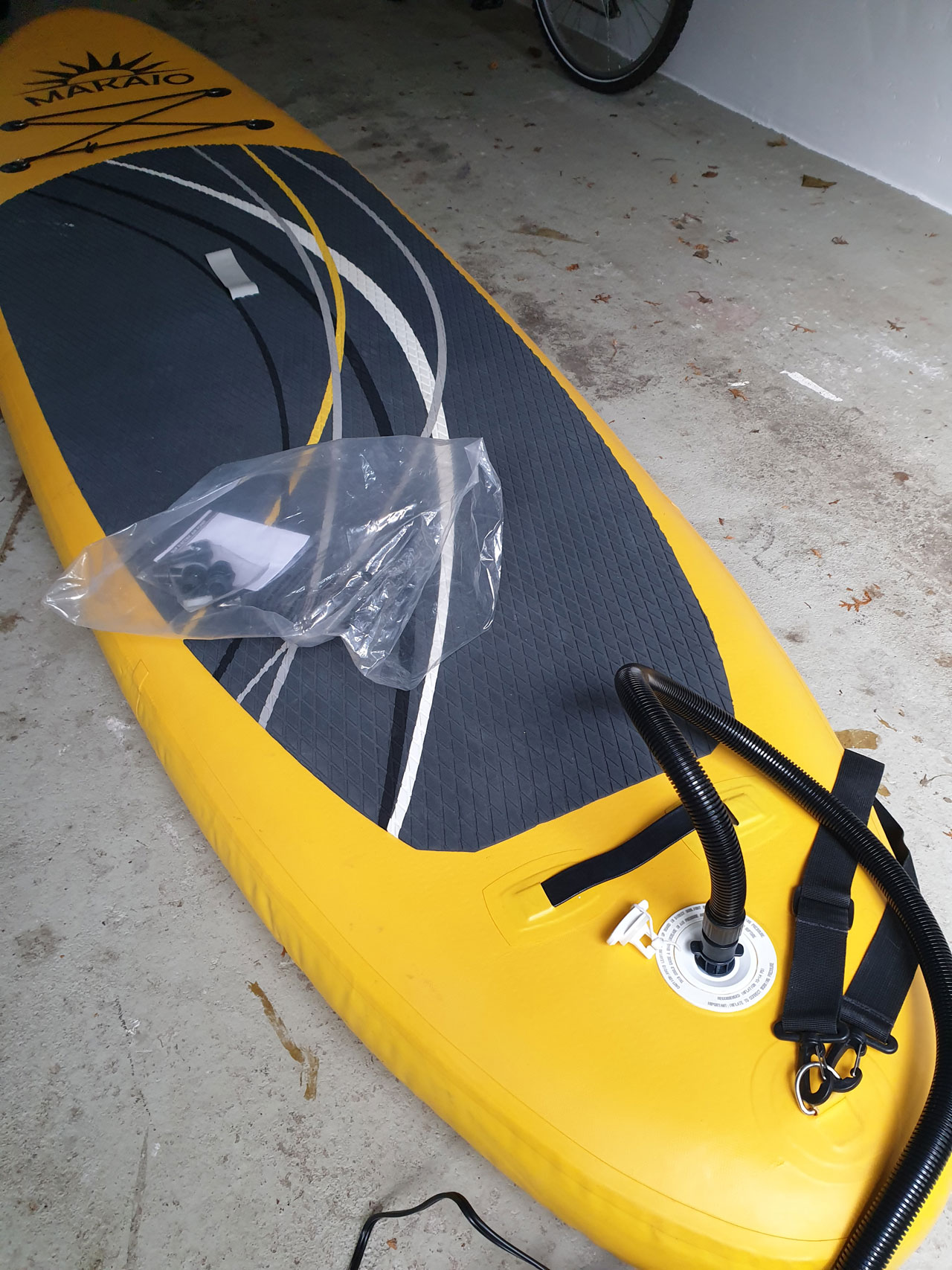 I can really 100% recommend this pump and am looking forward to my first spring sessions with it!